WinRa1n is one of the best free tool for jailbreaking Apple iOS device. It was developed by iKey Tools in 2023 with the aim of contributing to the global jailbreak community. The tool support iOS 12 – iOS 16 device. The most advantage of this tool is to jailbreak iOS device without booting your computer from Pendrive.
On the current page, you will get the direct link to download WinRa1n for Windows. We have share it as a zip package including the Apple USB Driver.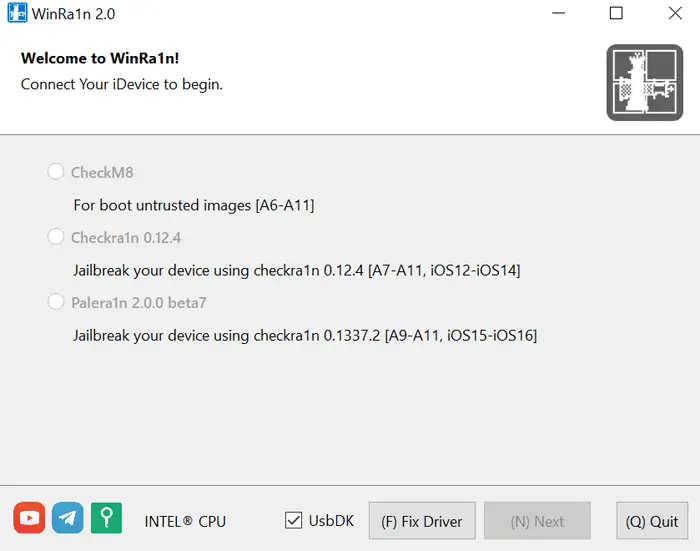 Download WinRa1n For Windows
WinRa1n allows to jailbreak iPhone 6 to X (iOS 12 to 16). We recommend downloading the latest version of this tool. Use any following links to get it.
Tool Name: WinRa1n.exe
Author: iKey Tools
How To Use?
Firstly, download WinRa1n on your computer.
Secondly, install Apple USB Driver on your computer. Otherwise, never the tool detect your iOS devices.
Now, open the tool and follow the following steps.
Connect your device to the normal mode and click on "Trust" on your device.
After connecting your device, click on "Start" on the tool.
In this step, your device will enter the iTunes mode automatically. Now, click on "Start" and follow the instruction that shows on the screen on the tool.
Wait a few moments to complete the jailbreak.
After successfully jailbreak, your iOS device will open automatically.
Readme Once
[*] Supported Device: Currently, WinRa1n support iPhone 6 to X (iOS 12 to 16) for jailbreaking Apple iOS devices.
[*] Credit: Full credit goes to iKey Tools. Because they created and distributed it for lifetime free.
[*] Scan: Firstly, we have scanned the tool using the Virus Total online scanner. Then, we uploaded it on GSM Official.
[*] iCloud Bypass Tool: We have share some tool for bypassing iCloud activation lock on this page. i.e., iFRPFile All In One and FRPFile Premium Tool.