UMT QcFire is the best tool for Qualcomm-powered devices for flashing or unlocking. The QcFire tool also helps you to reset the FRP lock and repair your device powered by Qualcomm SOC.
In this post, you will find the direct link to download the latest and the previous version of the UMT QcFire tool (all versions) on your computer. We have shared the module as a zip package, including Qualcomm USB Driver and Tutorial.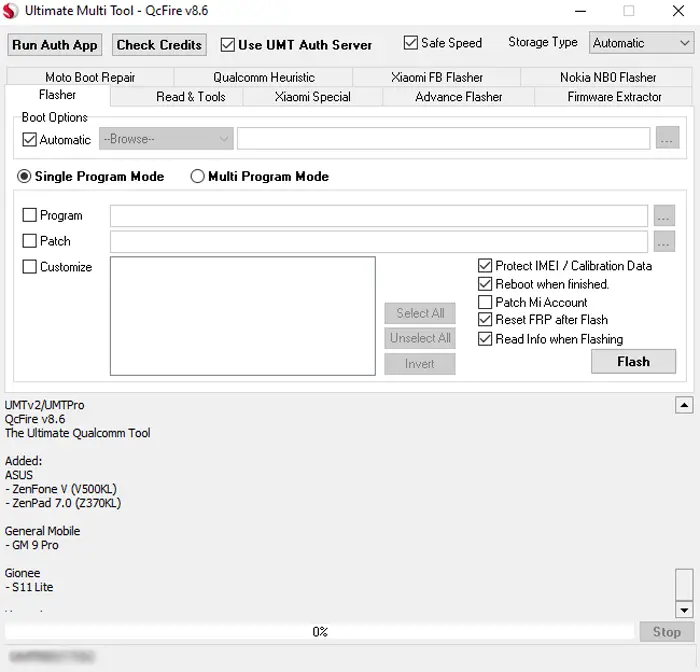 Download UMT Pro QcFire Setup File (all versions)
UMT QcFire allows installing stock ROM on Qualcomm-powered devices. It also helps to unlock or repair your Android devices. We recommend using the latest version of this tool.
v8.6: UMTv2_UMTPro_QcFire_v8.6.zip | AFH | G-Drive – Latest
v8.5: UMTv2_UMTPro_QcFire_v8.5.zip | AFH | G-Drive
v8.4: UMTv2_UMTPro_QcFire_v8.4.zip | AFH | G-Drive
v8.3: UMTv2_UMTPro_QcFire_v8.3.zip | AFH | G-Drive
v8.2: UMTv2_UMTPro_QcFire_v8.2.zip | AFH | G-Drive
v8.1: UMTv2_UMTPro_QcFire_v8.1.zip | AFH | G-Drive
v8.0: UMTv2_UMTPro_QcFire_v8.0.zip | AFH | G-Drive
v7.9: UMTv2_UMTPro_QcFire_v7.9.zip | AFH | G-Drive
v7.8: UMTv2_UMTPro_QcFire_v7.8.zip | AFH | G-Drive
v7.7: UMTv2_UMTPro_QcFire_v7.7.zip | AFH | G-Drive
v7.6: UMTv2_UMTPro_QcFire_v7.6.zip | AFH | MediaFire
How To Work Using UMT QcFire?
Firstly, download and install the UMT QcFire tool.
Install Qualcomm USB Driver on your computer. Otherwise, the QcFire tool never detects your device.
Open the tool, then follow the following steps.
Secondly, tick the "program" check box and locate the firmware.
Now, connect your device to EDL mode. Then, follow the following steps.
After connecting your device successfully, click the "Flash" button.
Never disconnect your device during the flashing process. Otherwise, you may face boot-loop or dead issues.
Readme Once
[*] Take a Backup: Your data will erase after flashing stock ROM using the UMT QcFire tool. So we recommend taking a complete backup of your data from the device.
[*] Scan: Firstly, we have scanned the tool using the Windows Defender Antivirus. Then we uploaded it on GSM Official.
[*] Credit: Full credit goes to UMT Team. Because they created and distributed this tool.
[*] USB Driver: We have shared some USB Drivers for connecting your device to the computer. i.e., Qualcomm USB Driver and Qcom MTK Driver.
[*] More UMT Module: We have shared some more UMT Module Tool on the page. i.e., UMT Support Access, UMT MTK, UMT eMMC Tool, and UMT Card Manager.