Huawei Fastboot FRP Erase Tool helps you to remove the factory reset protection (FRP) lock on your Huawei Android devices.
You will get the official link to download Huawei Fastboot FRP Remove Tool on the current page. We have shared it as a zip package, including the USB Driver and Tutorial.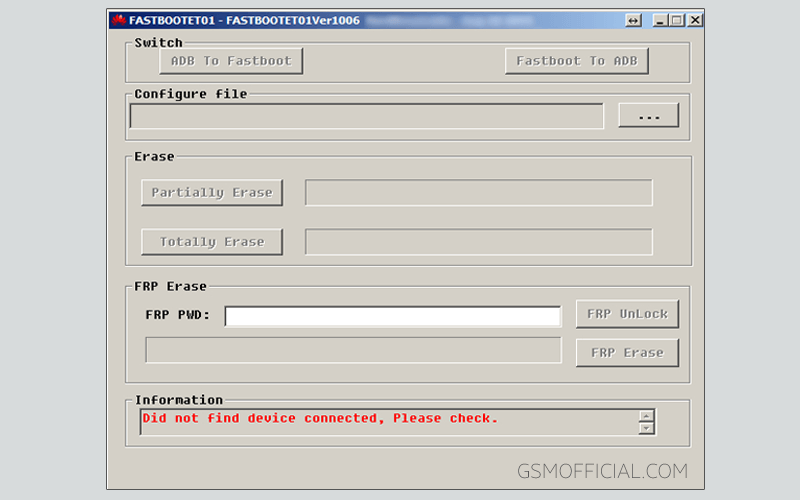 Download Huawei Fastboot FRP Tool
Huawei Fastboot FRP Reset Tool helps you to remove the Factory Reset Protection (FRP) from your Huawei Smartphone powered by Android OS and the latest security patch level.
Huawei_FRP_Ereaser_Tool.zip | Download It
How To Use
Firstly, download FRP Tool on your computer.
Secondly, install Huawei USB Driver. Otherwise, never does the tool detect your device.
Thirdly, open the tool.
Now, connect your device to the fast-boot mode. For fast-boot mode, press Volum DOWN and Connect USB cable.
Now, past or input Huawei FRP Key on the FRP PWD section. The Huawei FRP Key is paid. So contact your reseller for buying paid FRP Key.
After successfully inputting the FRP Key, then click on the FRP Erase.
Readme once
[*] Take a Backup: If you are going to use the Huawei Fastboot FRP Erase Tool to unlock the FRP lock, then take a complete backup of your data. Because, after unlocking FRP using this tool will erase your data. i.e., Contacts, Photos, and Files.
[*] Scan: Firstly, we have scanned the tool using the Virus Total. Then, we uploaded it on GSM Official.
[*] Credits: Full credit goes to Huawei Technologies. Because they created and distributed this tool for free.
[*] Huawei USB Driver: We have shared some USB Drivers for connecting your device to the computer. i.e., Huawei USB Driver and Fastboot Driver.
[*] More FRP Tool: We have shared some more FRP Tools on the current page for various brands. i.e., Easy FRP Tool, SamFW FRP Tool, and SPD Fastboot FRP Tool.